I Heart Health Expo 2019
By Nicole L. Gill, CouncilMag.com

The message at the fourth annual I Heart Health Expo in West Baltimore was clear: Improve your diet and you can maintain your heart health. I Heart Health advocates for awareness of heart disease in women.
The statistics bear out the concerns of heart disease. Heart disease is the leading cause of death for women in the United States, according to the National Vital Statistics Reports' death data for 2013 as referenced in the Centers for Disease Control and Prevention's Women and Heart Disease Fact Sheet. In 2013, 289,758 women died of heart disease.
"We try to bring health to West Baltimore," said Alli Mofor, founder of I Heart Health, which works to create awareness about heart disease while promoting healthy lifestyles in underserved communities. "Because around the corner, you see bodegas. You don't see a Whole Foods or a Giant. So our eating habits affect our heart health. So we're the ones who end up with high blood pressure, on dialysis with a heart attack, with a stroke. So we're trying to just create awareness, educate people."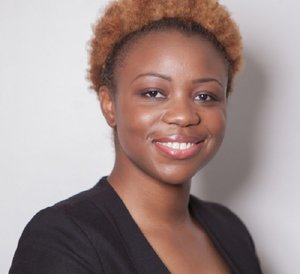 Alli Mofor, founder of I Heart Health, believes education is important.
As Mofor explained, women's heart attack symptoms don't present the same as men's symptoms. Often when women go to the hospital, their symptoms are dismissed as something else.
"Normally it's looked upon as chest pain, you had a heart burn, indigestion as opposed to a man. … So we try to educate our mothers, our grandmothers, our aunties that sometimes what you're eating might not be the best for your health."
Heart disease's prevalence among women is one of the reasons behind the Red Runway Fashion Show at the I Heart Health Expo. This year, red collections from four designers – Virlé Cole, MB Design Gallery, ZnaK Designs and Studio D'Maxsi – rocked the runway.